Upgrade To A Retail TV Menu System
Thinking about updating your retail space with digital TV Menus? The future of your business is bright! There are a massive number of benefits that come when you decide to switch to a digital tv menu system. At Divvy Digital we have over 15 years of experience in the retail tv menu space. Our system is specifically designed for the Cannabis retail industry, seamlessly integrating with the top P.O.S. systems including Google Sheets! Let's go over some of the perks your Cannabis business will benefit from when you switch to a retail tv menu system.
Sign Up For A FREE Retail TV Menu Consultation
Why You Need Divvy Digital's Retail TV Menu Service
Digital tv menus have been popping up in all sorts of retail spaces as of late. When considering the benefits these digital solutions create, there's no wonder why. 
Having a TV menu in your retail store can instantly increase sales. The large colorful displays attract customers while delivering data in a perfectly organized fashion. Creating a standard paper menu for a cannabis dispensary can be difficult. A Flower menu can often have up to 50 products, each with 5 to 8 columns of data. Putting this on a standard paper menu is almost impossible.
Divvy Digital's retail tv menu service provides the solution. With our system you have the option of showing multiple pricing options, THC and CBD percentages, with as many products as you have. Divvy Digital's TV menu system is designed to paginate whenever the product length goes above a threshold that you set. This allows us to schedule the display of all your products.
Top Benefits To Using Retail TV Menus
Immediate Sales Impact

Seamless Integration With All Cannabis P.O.S. Systems

Ability To Change Content On The Fly

Manage Thousands of Screens With One CMS

Get Full-Support For Life
Retail TV Menus Made Specifically For The Cannabis Industry
If you've been working in the Cannabis industry for more that 5 minutes you know how difficult it is to integrate with normal systems. Whether it's banking, running an online store, or using a standard P.O.S. system that the rest of the world has access to, you know you need to go a step further. 
We've been working hard for over 15 years to find the best solutions for you. Our retail tv menu service integrates seamlessly with every P.O.S. system in use with cannabis dispensaries. We even went one step further to integrate with Google Sheets, just in case your state makes displaying your live inventory a bit more difficult. Additionally, you'll get full support for life.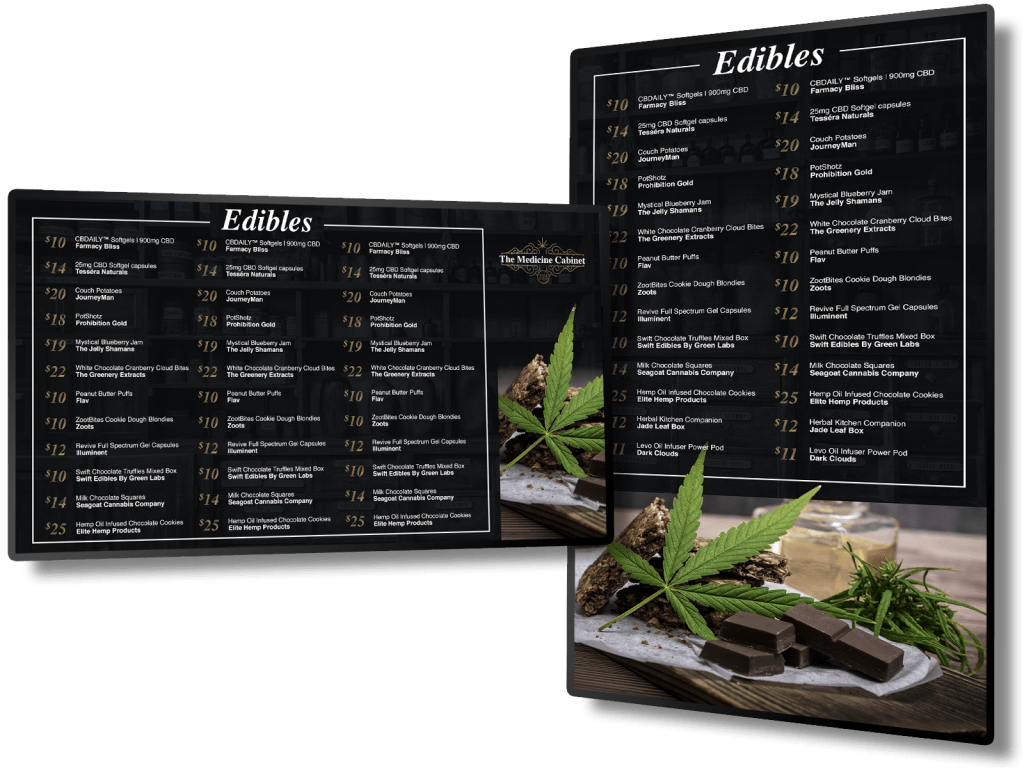 Customizing your retail tv menus
One of the main things we notice when getting into this space was the absolute lack of customizability. Our design team is on call ready to help you build the perfect digital menus to represent your brand. Even after launch you'll be able to change you menu on the fly. Updated product listings show within minutes and you can even display ads or videos on many of our menu options. These ads are completely run by you. At no time will we ever run 3rd party advertisement on your tvs. YOU CONTROL YOUR CONTENT.
Want More Information About Divvy Digital's Retail TV Menu Service?
Fill out this small form and a representative at Divvy will get in contact with you ASAP!

"Before entering a new industry we are very careful about making sure we have a product and service that meets a true need. What we found through talking directly with many Cannabis Owners is that being able to update their TV Menus instantly without too much headache is what they truly wanted and so this is what we made sure to deliver upon and more. "