Digital Menu Display, Is It Right For you?
There's a lot of extra items to think about when opening a new cannabis dispensary. One of those items is what type of menu set up you're going to have. Obviously, the options are almost endless. You can clearly go with the classic paper style menu. However, with the constant change of inventory, you may end up spending more time and money on constantly printing menus than you ever thought necessary. A great alternative could be to invest in a digital menu display. Here at Divvy Digital, we'll help guide you through that process. Having the right Digital Signage Strategy from the get-go will set you off on the right foot. The first step is seeing whether or not a Digital Menu Display service is right for you.
WHY YOU MIGHT NEED A DIGITAL DISPLAY MENU.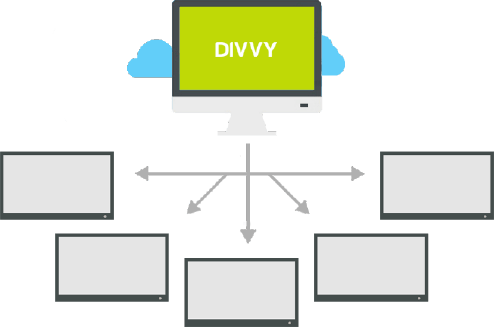 The most common reason for needing your cannabis menu items to display digitally is inventory turnover. Printing out menus for your customers may sound like a good idea at first, but it can't quickly become an absolute headache. You'll have to cross items off the list each time a shipment doesn't come in or you run out of stock, which can look tacky. Or, you'll be spending far too much time and money constantly printing out new menus.
With a digital menu, your customer-facing inventory stays completely up-to-date. Divvy Digital's TV Menu Board Software links up with your inventory system and your P.O.S. to make sure that your product inventory is always fresh. Running out of stock with a digital menu system no longer means you have to print out another menu. If your website is up-to-date, your in-store menu will be up-to-date. It's as simple as that.
Want To Promote an Event or Special?
There may come a time when promoting a special event or product special is imperative. A digital display system makes it easy to run photo or video promotional material. Divvy Digital allows you to run a video and seamlessly with your menu. You can easily run this ad while still showing your menu with a vertical tv orientation. If your in-store tv menus are in a horizontal orientation than you may want to show the promotional ad at an intervaled time. You can show your edible inventory items for 3 minutes (or any time of your choosing) switch to a video or photo ad for 15 seconds, then switch right bay to your menu. This type of showcase can easily be set up with Divvy Digital's back-end system, allowing you to make looping playlists.
Picking The Right Service
The case is clear. A digital menu display is probably the way to go for your new or existing cannabis dispensary. But, with so many display services out there, how can you be sure you're going with the right company? Here's why Divvy Digital is right for you. With over 15 years of digital display experience, we've created a customer-focused service that is easy to use and get's you the results you need. Our tv menu display system links up perfectly with modern P.O.S. and Inventory systems used in the Cannabis industry like Flowhub and Green Bits. We have a dedicated design team ready to being your menus to live, and our customer support is of utmost importance. Oh… also we have no contracts! We run with a philosophy of earning your business. We are so confident in our product and service that we know if you sign up, you'll never want to cancel!
Want More Information About Divvy Digital's Digital Menu Display Service?
Fill out this small form and a representative at Divvy will get in contact with you ASAP!

"Before entering a new industry we are very careful about making sure we have a product and service that meets a true need. What we found through talking directly with many Cannabis Owners is that being able to update their TV Menus instantly without too much headache is what they truly wanted and so this is what we made sure to deliver upon and more. "