Social Distancing In Cannabis Dispensaries With TV Menus
There's no question that 2020 has been a doozy for all of us. As summer comes into view, many business are still closed, and many more people are working from home. While the cannabis industry has seen its fair share of tribulations over the years, during these Covid-19 closures, cannabis dispensaries have been relatively untouched. That is obviously not to say that things haven't changed. Many cannabis dispensaries are offering creative ways to get the medicine their patients. We've even seen drive-thru options. With customer safety concerns at an all-time high, there has never been a better time to upgrade your cannabis dispensary. Divvy Digital makes it easy to practice proper social distancing in cannabis dispensaries with tv menus.
Let's think about it. If you are running a cannabis dispensary right now with out a digital menu service, most likely you're running into a few crowding issues. We've seen many cases where three or four people are huddled together trying to read the same paper menu. This has never been a good thing. However, during coronavirus, this has become down right dangerous.

We've all heard from WHO and the CDC the importance of wearing a mask and practicing proper social distancing. By installing TVs to run your menus, customers are able to step back from the counter and from each other while still reading the menu. For many, marijuana is a medical need. Many of the clients have the safety of themselves and others on the top of their minds. Upgrading your paper menus to the TV solution provided by Divvy Digital will allow your clients to view the products they need while keeping a safe distance.
Digital TV Menus Make A Huge Difference!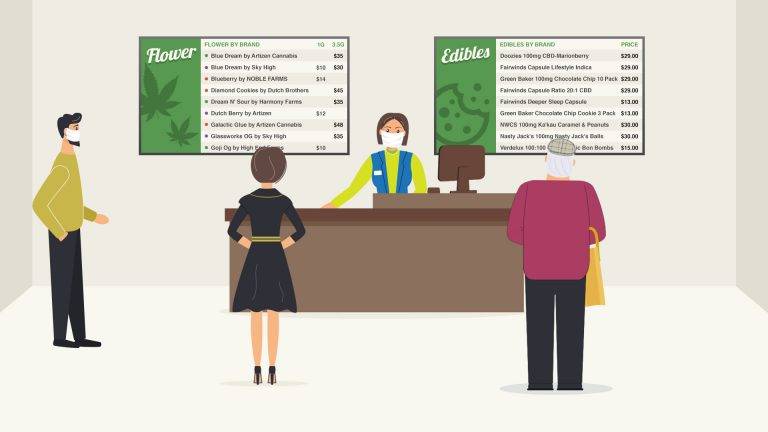 As you can see from the diagram above, digital tv menus make it far easier for your customers to practice social distancing. The before and after shows what switching from paper menus to a TV solution can do for you. Multiple customers can look at the menu at the same time from a proper social distance rather than crowding around the paper menu and the counter. This helps to keep your clients and your staff safe, keeping your business running at full speed. 
It is insane to think about how far the cannabis industry has come in the last few years. Knowing that there are still people in jail in some states for marijuana possession while cannabis dispensaries in many states have been labeled essential businesses really puts things in perspective. Hopefully our digital menu solution can help keep the dispensaries open. Stay safe out there! We can do this!
SOCIAL DISTANCING IN CANNABIS DISPENSARIES WITH TV MENUS

"Before entering a new industry we are very careful about making sure we have a product and service that meets a true need. What we found through talking directly with many Cannabis Owners is that being able to update their TV Menus instantly without too much headache is what they truly wanted and so this is what we made sure to deliver upon and more. "